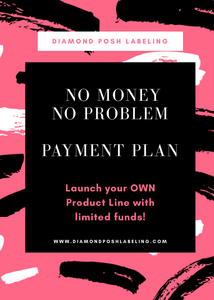 "No Money, No Problem" Payment Plan
How it works:
1. Simply put a down payment of $100 dollars. You can choose this package on the website to get started.
2. We make the products you select for your New Client Package. We'll design & print your labels. We set up your Website & make you 2 social media ads. We then launch a Pre-Order Campaign for you so you can start making money with your own Beauty Product Line! Turn around time is 1 week.
3. Bingo! Simply collect your profit & pay your remaining balance for your package. We ship the products to you so you can give it to your customers. After your 1st order as a new client, enjoy minimum orders as low as 10 products.
You'll receive an email & call after your order that you can select which products you want and we'll discuss your vision for how you want us to design your labels.