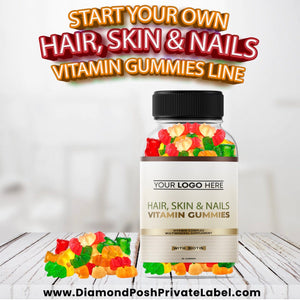 Before you start your own Vitamin Line you must order a Sample Kit which includes a free consultation.
Included:
- Ultimate Sample Kit
-Consultation 
- Vitamin samples
-Regular Vitamin samples
-Various flavors of Vitamins 
-Various Formulas 
-Marketing & Profit Plan
-Ambassador Guide
*Anyone who orders a Sample Kit receives a special discount when you decide to start your line*
-When you start your line, you will receive free label design and complimentary web page design from our Graphic Design & Branding department. If you do not have a website this includes 3 FREE months of web hosting.
FREQUENTLY ASKED QUESTIONS
❖ What is Private Labeling? 
-We create a beauty & cosmetic line for you. We make the products that you select and we brand it with your name on it. We also create & print your labels and create your website with your order.
❖Can I select different products outside of my Sample Kit to start my product line? 
-Yes, you DO NOT need to order every sample kit to add that product to your new product line. On your 1st New Client Order, we'll design labels & print them for any products that you select. You just have to purchase ONE sample kit before starting your own Product Line.
❖ I ordered a Sample Kit. What are the next steps after? 
-The next step is to place your first order "New Client Package". The New Client package consist of your 1st order. After your new order, you'll be able to enjoy low minimums of just 10 products.
o Your "New Client Package" consist of a minimum order of $300 & only $200 if you're just ordering a Lip Gloss line. The New Client Package consist of 30 products, & 60 products for Lip Gloss line. You'll receive label designs for 5 products that you choose. If you want a larger product line, it's only a $10 additional label design fee.
o A one-page website will also be created for you, along with social media ads. Before we ship your order, we will take Professional Pics of your products for you to use. This packaged is valued at $800 Dollars. ❖ Do you have Payment Plans? -Yes, we have "No Money, No Problem" Payment plan. See details on website.
❖ What are the lowest minimum products I can order?
-After your 1st initial New Client order, you'll be able to enjoy low minimum orders of just 10 products.
❖ Do you label the products? 
- Yes, we create & design custom labels to reflect your brand that you love! There is no additional charge for this service. That's what separates us from other private label companies. We believe in adding value to you & we want you to win!
❖ How can I get in contact with some to ask additional questions? 
-Send an email to Support@DiamondPoshLabeling.com 
❖ How are your products different from other brands? 
-Each of our products are hand-crafted with the highest quality ingredients. We create luxury products that people love!
❖ What is the shelf life of Diamond Posh Labeling Products? 
-We create our products fresh when you order. There is a 12-month shelf life from purchase.
❖ Do you ship Internationally? 
-Yes, we ship internationally. Send an email to receive custom invoice with shipping cost.
❖ Are you the manufacturer of all the products you listed?
-Yes, we manufacture all products listed.
❖ Can I request modifications or customization to the products I select? 
-Yes, send an email to discuss your wants and needs.
❖ Can I modify the trial Kit or only try one item? 
-No, we do not allow modifications to Sample Kits and we do not sell individual sample items.
❖ Can I try products before I commit?
-Yes, order a Sample Kit with the desired products you want to try.
❖ Are your products free of toxins? 
- Yes, our products are free of toxins & do not contain any harmful chemicals.
❖ How long does it take to receive my order? 
-It's a 1-2 week turn-around time for all orders.
❖ Is there a refund policy? 
-For sample kits & Private Label orders, there are no refunds. If any products are defective, we will take the appropriate steps to correct the issue.